Thrilling You have more to contribute and you're ready to start working on something that matters to you.
Important You want to use your power for good. You want to give more to the world than you take.
Daunting You're ready to challenge who you are today and grow into who you want to be. You want to shake things up even if you don't know exactly where to start.
Do work that's
Thrilling,
Important,
& Daunting
We unlock our greatness by working on hard things. I know the status quo would LOVE you to keep hiding your light, playing it safe, staying small.
But that's a life half-lived. We all lose when that happens. And you can be a force for change in this world.
I'm doing this work too, and I've collected both scars and trophies along the way. Let me help you get started.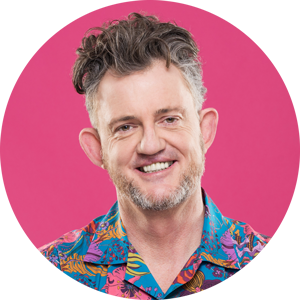 I'm an author (more than a million books sold), a teacher, and a facilitator (more than 200,000 people taught). (There's more of my story here.) I'm walking the same path as you, and I've found a plan that works.
I've made step #1 easy for you.
Get free access to 52 powerful allies in Year of Living Brilliantly.
Pick where you'd like to start.
(It doesn't matter, just so long as you start somewhere.)
The Conspiracy
A committed community dedicated to making progress on the work that matters.
My Books
They're short, funny, and practical. >1M copies sold, thousands of 5-star reviews.
Weekly Inspiration
52 short, provocative videos from my network of incredible teachers. 100% free.