How to Begin
Start Doing Something That Matters
Don't regret a life half-lived. Stepping up and pursuing your dreams is hard … and it's exhilarating, and it's important.
Your practical guide to finding the focus and courage to set a Worthy Goal.
"This could be one of the most important books you'll ever read."
Jim Knight
Author, The Definitive Guide to Instructional Coaching

We unlock our greatness by
working on the hard things.
WATCH THE VIDEO
Start Showing Up For Yourself
So you can show up for the world too. Let me show you how to get clear, get confident, and start anything that matters.
ALREADY HAVE THE BOOK?
Access Free Resources!
Sign up now for FREE bonus videos of Michael coaching people through the process and worksheets to go through it yourself.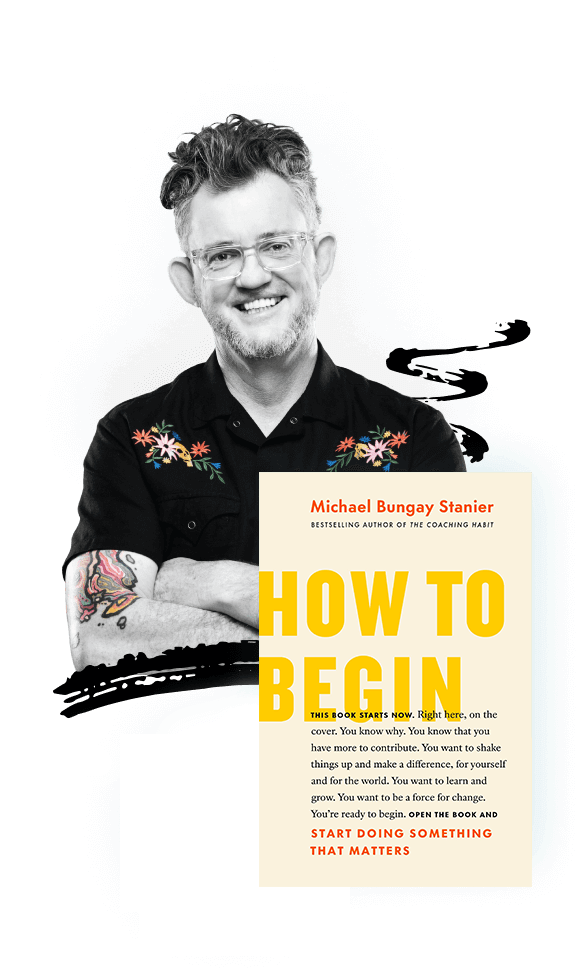 What You'll Learn
How to Begin is about how to be ambitious for yourself and for the world. Use the How to Begin process to find and start your Worthy Goal: something thrilling, important, and daunting.
You'll learn how to:
Find and refine your Worthy Goal
Test your Worthy Goal, to make sure it's the best one for you
Get clear on what it really means to be committed to your Worthy Goal
Build the resources to cross the threshold and begin
And much more!
Order now
Where to buy How to Begin
If you can, please support your local independent bookseller.
TESTIMONIALS
Explore Reader Reviews for This Book
Pamela C. Slim
Amazon Verified Purchase
"Nothing like Death Date context to move you to action on your goals!"
"I usually feel about as excited about goal setting books as a trip to the dentist. But in typical MBS fashion, he makes the process not only meaningful, but deep, insightful and hysterical. This little book is packed with gems. And the "one big project every 5 years until your Death Date" idea really got me thinking."
Dolly Chugh
Amazon Verified Purchase
"Love Love Love this Book"
"I am a big Michael Bungay Stanier fan. I believe he is one of the most astute, wise, compassionate thinkers in the non-fiction/business/self-help space. I recommend his books to friend and use them in my teaching of MBA students. So, my expectations were already high coming into this book. Well, his latest book is his best yet. Personal and powerful. The topic may feel familiar but this book is not. Highly recommend."
Jacqui W
Amazon Verified Purchase
"Stunningly helpful and powerful"
"Stunningly helpful and powerful. And funny! This book is helping me begin my bravest endeavour yet at being my own kind of force for positive change in the world… well, aside from parenting, my bravest yet! MBS is, as ever, totally inspiring. I'm grateful."
Amazon Customer
Amazon Verified Purchase
"Finding Your Passion"
"MBS has done it again! If you are in need to restart and find your passion in work and life, then this THE book to start your journey."
Whitney Johnson
Amazon Verified Purchase
"Where the Wild Things Are for Adult Dreamers and Doers"
"If you want to dream bigger, if you want to do something that matters, Michael Bungay Stanier will teach you how to begin. Eminently practical, clever, delightful, and beautifully rendered––a non-fiction Where the Wild Things Are for adult dreamers and doers."
fred bloggs
Amazon Verified Purchase
"Any fool can make something complicated. It takes a genius to make it simple."
"I love this book. Don't be deceived by how accessible it feels. MBS has grappled with the universal question of why we all struggle to do hard difficult work and come out on top."
Tasha Eurich
Amazon Verified Purchase
"An empowering guide to reclaim our greatest ambitions"
"Most of us have big dreams—for who we can be, what we can achieve, and where we want to contribute. But when these dreams collide with life's daily demands, we get stuck in the urgent now, feeling our dreams drifting away. This extraordinary book is an empowering guide to reclaim our greatest ambitions, and in so doing, experience the exhilaration of becoming the best of who we are. You might need it just as much as I did. :)"
Try The Course: How to Begin